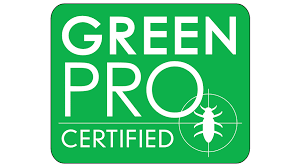 It has always been Braman's goal to keep you, your family and your pets safe from pests with minimal risk to the environment. That's why we've consistently provided homeowners in New England with environmentally-responsible residential pest elimination services since 1890. We use a variety of tactics to minimize our reliance on chemicals and ensure that our green pest control solutions abide by eco-friendly standards.
GreenPro Designation for Green Pest Services
In response to these efforts, we are proud to have earned a GreenPro designation from the National Pest Management Association (NPMA). A GreenPro certification signifies that we have complied with a range of qualifications to ensure that our customers receive an environmentally responsible and effective service each time a Braman technician arrives at their door. It provides a guarantee for quality, emphasizing our ability and willingness to:
Design and implement eco-friendly pest control programs
Train our service technicians and staff according to the highest standards in the pest control industry
Adhere to ethical business practices
Our Techniques: Exclusion and Minimum Risk Products
Having an entomologist on staff allows us to understand and prevent infestations rather than immediately relying on conventional pesticides for every issue. Braman always begins a job by looking for environmentally friendly pest solutions such as exclusion, mechanical trapping and sanitation. These green rodent control or insect control measures are the safest for humans, animals and the environment. If these preferred methods are unsuccessful or unavailable for a job, we then turn to minimum-risk products, which are exempt from the typical EPA registration process because of their very low toxicity to humans and animals.